Services & Activities
- is your ticket to four seasons of adventures and fun from indoor rock climbing and kayaking to hiking, fishing, camping and white water rafting. In addition, Outdoor Recreation is your one-stop shop for all equipment rentals.
- the Sgt. Andrew McConnell Youth Center offers a demonstration kitchen for cooking classes, a full-size gym and patio, a sport court that can be used interchangeably for roller-skating, roller hockey, basketball and much more. Teens can participate in outdoor activities, arts & crafts, 4-H Club, Triple Play and video game tournaments. Special events are offered throughout the year to include field trips to area locations.
On-post Organized Sports are offered during the fall, winter and spring months to include soccer, basketball and home school fitness programs. Teens often 'give back' by volunteering for the youth sports programs they enjoyed when younger.
Carlisle Barracks Fitness Campus
- incorporates three fitness centers within a 5-minute walk of each other. Teens,16-17, can use fitness facilities without being accompanied by a parent or legal guardian. (Dependent teens, 13-15, are eligible to use the fitness centers if accompanied by a parent; they cannot, however, use the free-weight equipment.) There are classes and/or pro guidance offered at --
Thorpe Hall Fitness Center - offers group exercise classes, a cardio room, indoor track, Teen Combatives, TRX and MMA fitness.
Indian Field Fitness Center - offers traditional fitness with equipment such as treadmills, elliptical machines, stationary cycles, strength equipment and free weights.
Root Hall Gym - offers a full size basketball and volleyball court, and regulation-size racquetball/handball court.
McConnell Youth Center Gym - offers a full size basketball court, rock climbing wall, and is home to the most popular under 18 activity on post, Friday Night Dodgeball
- is a boy-led troop that supports the mission of the Boy Scouts of America: "To prepare young people to make ethical and moral choices over their lifetimes by instilling in them the values of the scout oath and law." The troop participates in at least one outdoor activity every month and has weekly meetings. Approximately 50 percent of the troop is comprised of Army War College family members. Past activities include: whitewater rafting, rifle shooting, fishing, hiking, camping, climbing, and week long summer camps. BSA173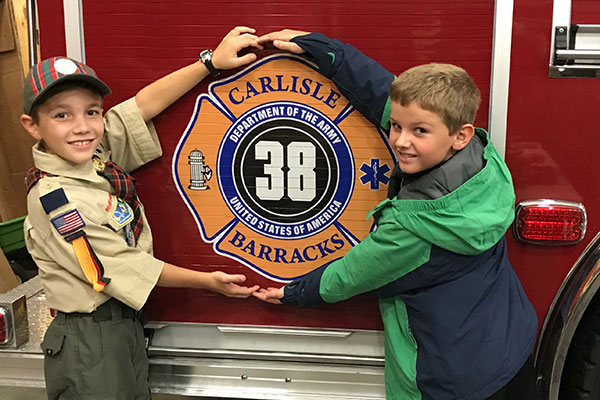 - Troop #10540 lives out the mission of the Girl Scouts of the USA: "To build girls of courage, confidence, and character, who make the world a better place." Girl scouting provides girls with opportunities for fun and friendship while empowering them to develop their leadership skills, values, and self-esteem. The troop offers a myriad of enriching experiences, such as outdoor activities like camping, geocaching, and hiking; extraordinary field trips; community service projects; environmental awareness and stewardship events; cultural exchanges like World Thinking Day, and a wide-variety of summer camp opportunities. The Carlisle Barracks troop accepts all girls in grades K-12, and they may join at any time of the year. The troop is always looking for adult volunteers to coach, mentor, and guide girls along their journey. GSHPA Facebook
Plan, now, for all you can do in the Cumberland Valley -