On-post Health Care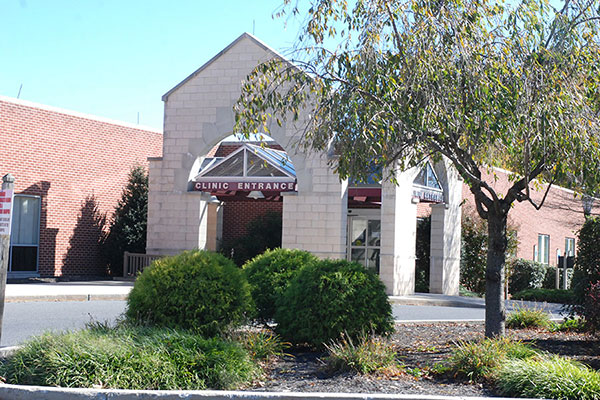 Dunham U.S. Army Health Clinic is a member of the TRICARE Northeast Region and the Walter Reed Health Care System, which partners with HealthNet to provide care.
Dunham is a non-emergency clinic that offers family medicine, pediatrics, optometry, social work and behavioral health, occupational health, and industrial hygiene services. In addition, Dunham offers immunization, laboratory, radiology, and pharmacy support. A Soldier medical readiness center, which includes travel medicine information, is a recent addition to the offerings.
Appointments
Schedule appointments by calling the clinic information line at 245-3400 or toll free at 1-877-787-2569. Follow the prompts to reach the Appointments Section,
1st prompt - 1
2nd prompt - 1
3rd prompt - 2
Patients must wait for the prompt to begin before making selections. Active Duty calling from an office phone on Carlisle Barracks can dial 106 to schedule appointments for the service member. Cancellations can be made by calling 245-3325, please leave name of patient, sponsor's social security number, date of appointment, and name of provider. Please speak slowly and clearly when using this line.
Don't like waiting on hold to schedule an appointment? You can now schedule your appointments online with only a few clicks of the mouse. If you have questions regarding the TRICARE Program, benefits, or eligibility criteria, please call 1-800-538-9552.
To schedule an appointment online:
Go to www.tricareonline.com
Read the Online Privacy and Security Policy and click "I AGREE"
Log on by entering your Username and Password
Click "Appointments"
Select "Visit Reason", click "View Available Appointments"
Select appointment, or follow the directions to other options.
The Appointments Section schedules appointments for family medicine, pediatrics, immunizations, optometry, mammography, and gynecology. The Clinic has specialty providers on a limited basis. All appointments with specialty providers require a referral from the patient's PCM. Once a referral is acquired, the Appointments Section will schedule the appointments for specialists located at the Clinic.
Space Available Access Standards
Acute Only: An acute appointment can be booked 2 hours in advance. If there are no available acute appointments within 2 hours, the patient will have to call back and check for an appointment later in the day.
School, work physicals
School, sports, work, child care and drivers' license physicals all require a scheduled visit.
All children (including family members of AWC student) entering 1st, 6th, and 11th grades must have a physical. During the week of centralized in processing, students will be provided a flyer with the dates set aside for youth physicals, information about necessary documents required at the time of the appointment and the procedure for scheduling physical exam appointments. Questions can be directed to the Dunham Community Health Nurse at (717) 961-2009.
If a child is participating in any sport, it will be necessary to bring a separate form for sports physicals. Drivers' license physical forms can be found in the drivers training booklet. This form must be signed by the applicant in the presence of the provider conducting the physical. If another physical is required within 3 - 6 months and has been done at Dunham, it will only be necessary to bring in the form and leave the information with the PCM for 48 hours, then pick up the form at Outpatient Records or leave info for mailing/faxing of the form.
More information on Dunham can be found at https://www.facebook.com/DUSAHC/
Army Wellness Center
Carlisle Barracks is also home to an Army Wellness Center. Army Wellness Centers complement care of primary care physicians at installation medical treatment facilities, according to the U.S. Army Public Health Command. The centers provide health promotion services and education tailored to meet individual patient needs. Army Wellness Center programs and services are available to all Army personnel. This includes active-duty soldiers and retirees, their family members, DoD civilians, and Reserve/National Guard components.
For more information call (717) 245-4004.